This post is way past due, and I'm so sorry to my lovely reader and newly married friend Kae for taking so long! You all know I've been a little blah these days and I just didn't want that to come across in this post, so now sitting in the sun in my back "yard" drinking an iced coffee I think I'm in the right state of mind to do this justice.
This fairy tale wedding started for me on Friday when the boyfriend and I jumped in the car and drove a little over four hours through some serious rain to Woodloch to start the weekend festivities. I walked into the house I was staying at (if you remember this picture, these houses are the bomb!) introduced my boyfriend to all the ladies there and then started right away making s'more boxes for her favor.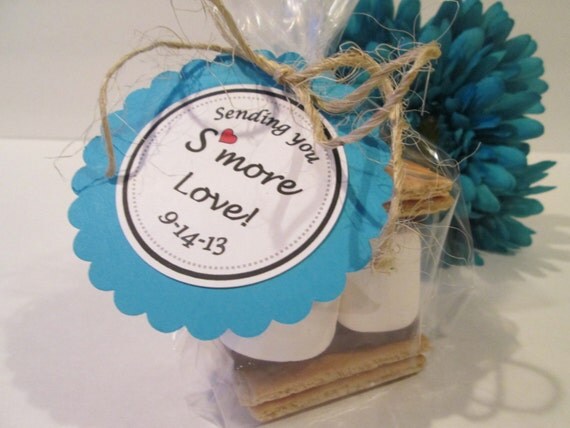 The boyfriend was sent on a beer run and the second he left the house all I got from the group was "oh my god we love him he is so cute!" or as one girl put it "wow, he's really hot!" Yes I do agree, my boy is fantastic. After about an hour of crafting we all got ready and headed over to the rehearsal dinner. Kaelyn always says that she knew we would be best friends when we shared a passion for food the first time we hung out, so I shouldn't have been surprised when it was time for dinner and there was a mashed potato bar. Let me repeat that again, a mashed potato bar. You could choose white or sweet (or both like me) and then a zillion toppings. I skipped right past the meats and seafood and just ate the potatoes and salad. PHENOMENAL! I didn't have my camera on me then but I was so happy and so in heaven. Note to self, you are totally getting one of these for your rehearsal dinner!
After heading back to the houses and drinking/hanging out for awhile all the boys needed to leave so us ladies could get our beauty sleep. The next thing I knew it was time to wake up and get my hair done. Yet before the stylist went to work Kaelyn gave us some amazing gifts, my favorite was the new robe and personalized hanger.
We all put it on and then the ladies went to work on our hair. People were also getting makeup done, but I wanted to do my own. I think it came out pretty nicely for my skillset!
After I finished I walked upstairs and Kaelyn's hair was almost done. She looked so soft, romantic and stunning. 
While they were putting the finishing touches on her hair her mom brought out her dress for the photographer to get a few shots of. I adored this dress, it was so delicate and so classic. 
All the bridesmaids got their dresses out too for a few shots. 
We all got to wear different dresses. Does mine look familiar? Hint it can also be seen here.
It seemed like nano seconds later that Kaelyn was dressed and off to see her husband-to-be for first looks.
To be continued…